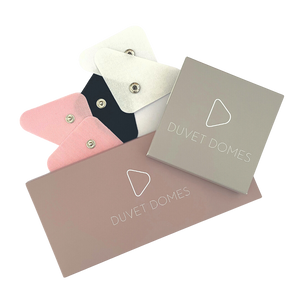 Bundle set of Duvet Domes, featuring;
24 piece Duvet Domes set

12 x white domes 

11 x pink domes 

1 x black dome
1 extra pack of Duvet Domes Cover set 
Enough domes for one king / super king inner and two king / super king covers!
Perfect for those that like to switch up their covers frequently, and need extra domes for more than one king or super king bed duvet cover.
Slip-free snuggles, here we come!
Different inners for different seasons? Add an inner-only set.
Watch our how-to video for the best method of attaching Duvet Domes to your inner and cover.
Please note: These are our new and improved design utilising metal domes. They are not compatible with the older, plastic style domes.